Welcome to .NET DeveloperDays!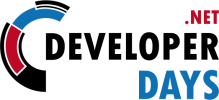 .NET DeveloperDays is a premium conference for all developers using Microsoft development stack, featuring some of the best speakers in the industry.
Come to Warsaw in order to learn, explore and network. Be prepared to be inspired and entertained!
During two days of the conference (Monday - Tuesday, October 19th-20th) you will have the opportunity to follow at least 20 technical sessions divided into two tracks and delivered by truly great speakers, network at the conference party and interact with our sponsors and exhibitors.
Our Early Bird tickets are going out fast, so if you want to take advantage of the Early Bird offer and save 200PLN/50EUR on registration, please hurry up! Visit Price List page for more information.
Are you an expert in .NET development? Want to share your knowledge and present at a great event, alongside the best speakers in the industry?
Our Call for Papers is now open and you can submit your session proposals here.