Welcome to .NET DeveloperDays!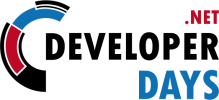 .NET DeveloperDays is a premium conference for all developers using Microsoft development stack, featuring some of the best speakers in the industry.
Come to Warsaw in order to learn, explore and network. Be prepared to be inspired and entertained!
During two days of the conference (Monday - Tuesday, October 19th-20th) you will have the opportunity to follow at least 20 technical sessions divided into two tracks and delivered by truly great speakers, network at the conference party and interact with our sponsors and exhibitors.
We are happy to announce that Roche Polska joined us as our Gold Sponsor! Welcome!
We are extremelly happy to announce that our first Strategic Sponsor this year is Objectivity – a great company to work for and organizers of the WROC# conference. We look forward to welcoming them at .NET DeveloperDays!
After a very fruitful Call For Papers and the vote on the session proposals received, we have tabulated the results and come up with the (still incomplete) list of sessions that will make up the agenda of this year's .NET DeveloperDays. Check out this really great lineup of sessions!